Update from the Windy City
Hey everyone, it's been a while since I've done a general update post. Well, here it is. And boy are there some updates for you. It's been a busy couple of months.
The Move
The biggest thing I've had on my plate was the cross-country move from San Francisco to Chicago. As I've mentioned before, I've been accepted into Columbia College Chicago's (colum.edu) MFA program. Classes begin in August for me, so Loretta and I decided we wanted to get here in July to give us (me) some time to acclimate. Instead of going the U-Haul route, we chose to pack a majority of our stuff with a moving company and drive in my car to Chicago. The drive was long, but good. We stopped for a day in Denver and I was able to get a pretty good panorama of the skyline at night. I shot a timelapse of the whole drive, and Loretta made a video blog of the journey; all of which I am editing now and will be posted soon.
Loretta also did a photo blog series, check it out:
Day One
Day Two
Day 3 and 4
Day Five
United States of Food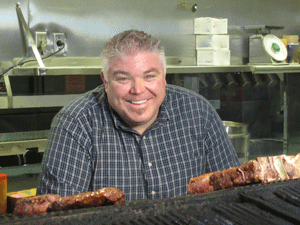 Back in May, I PA'd on the pilot episode of United States of Food (realscreen.com). Well, that premiered last Sunday (July 8th). "It's just a pilot, and you were just a production assistant, what's the big deal?" Well, the big deal is that because the crew was so small, and I had experience with the cameras we were using, I got to actually shoot some. Unfortunately, our TV is still with the movers on the way here, so I didn't get to see it. But, I'm sure at least some of my footage made it into the cut. This is the first time I've had anything I've shot air on national television; so that's why I'm so excited about it.
Nice! Travel Aviator
A couple of weeks ago I saw a Kickstarter campaign (kickstarter.com) from Zeke Kamm (@Zeke_Kamm), Nice Industries (nice-industries.com), for a new piece of gear. Being the gear-head that I am, the "I want it! I want it!" came out. The Travel Aviator is a lightweight travel sized camera jib, and I can't wait to get it in my hands. I showed the campaign to Loretta and even she got excited. "It'll be perfect for me to take product shots with." So, we went halves on it.
Site of the Day
This is a really new update; like, as of yesterday. Loretta found out that my portfolio site (widenmedia.com) won Adobe Muse's "Site of the Day" for Tuesday July 10th. She designed and built my site with Adobe's newest web publishing platform, Muse. I know it's not a huge award or anything, but it's really nice to get noticed.
And what they wrote about the site was pretty cool too; "In the homepage slideshow for Jeremy Widen Media, headlines about Jeremy's work and inspirations are transformed into graphics that beautifully illustrate the topics at hand. The site's grid layout and boldly contrasting color scheme make its style memorable and distinctive."
There's so much going on right now, and I'm probably forgetting a lot of it. Loretta had a job lined up for the day after we got to Chicago, and is now working full-time. Which is good, since I haven't been able to find any work yet. I'm just waiting for school to start; and for the movers to get here with our stuff. I'll be finishing up the timelapse in the next few days, so stay tuned for that. It's going to be a good second half of the year.